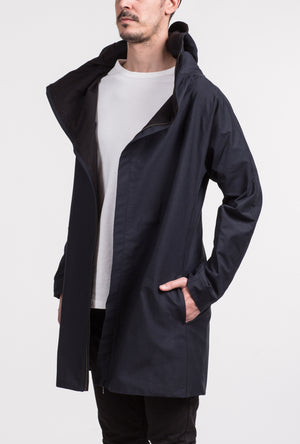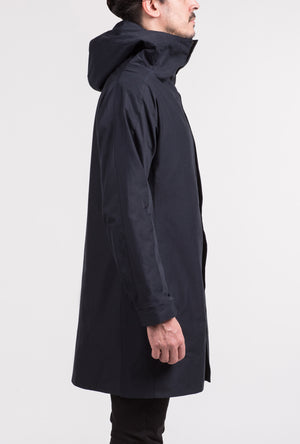 NAVY / HORIZONTAL / IN
....
Bunda, na kterou je spoleh. Esteticky i funkčně. Hlavní efekt tohoto výrazného modelu spočívá ve vysokém stojacím límci, který při rozbalení odhalí pohodlnou kapuci. Délka do půli stehen,  voděodpudivá úprava, v zádech zateplení vlnou. 
Materiál: 100 % bavlna, podšívka: 100% bavlna, vnitřní zateplení:100 % vlna
Na míru: Detaily objednávky dohodneme e-mailem po dokončení nákupu.
Doručení: Odesíláme obvykle během 7-14 dní. Pro urgentní objednávky nás, prosím, kontaktujte na soolista.design@gmail.com.
..
A parka you can rely on in terms of both aesthetics and function. The main effect of this bold garment is created by a large standing collar which unfolds into a comfortable hood. Mid-thigh length, water-repellent fabric, woollen insulation in the back. 
Material: 100 % cotton, lining: cotton, inner insulation: 100 % wool
On measures: We will contact you for measure details once the order is proceeded.
Delivery: Ready to send in 7 to 14 days. For urgent orders please contact us via soolista.design@gmail.com.
....